Reading: Advocacy
One of the ways in which citizens can shape public policy and affect societal values is to connect with other like-minded individuals, engaging them in thoroughly planned activities to support a specific cause. In other words: influencing policies through advocacy campaigns. Advocacy, as a set of organised activities aimed at influencing government and shaping institutional policies and practices, aims to achieve lasting change for those who are at the centre of the issue.
As described by the NGO Save the Children, campaigning is a set of advocacy, communications and mobilisation activities that "always goes beyond just influencing policies and practices and always seeks to engage the public in taking action and creating a broader movement for change" [1].
Look at this inspiring image by The Risk Management Society (Rims), a global not-for-profit organisation committed to advancing the practice of risk management worldwide, to understand what advocacy is in a more visual way ;-). Although it seems centered in the US, the steps to plan/execute a successful advocacy campaign are universal: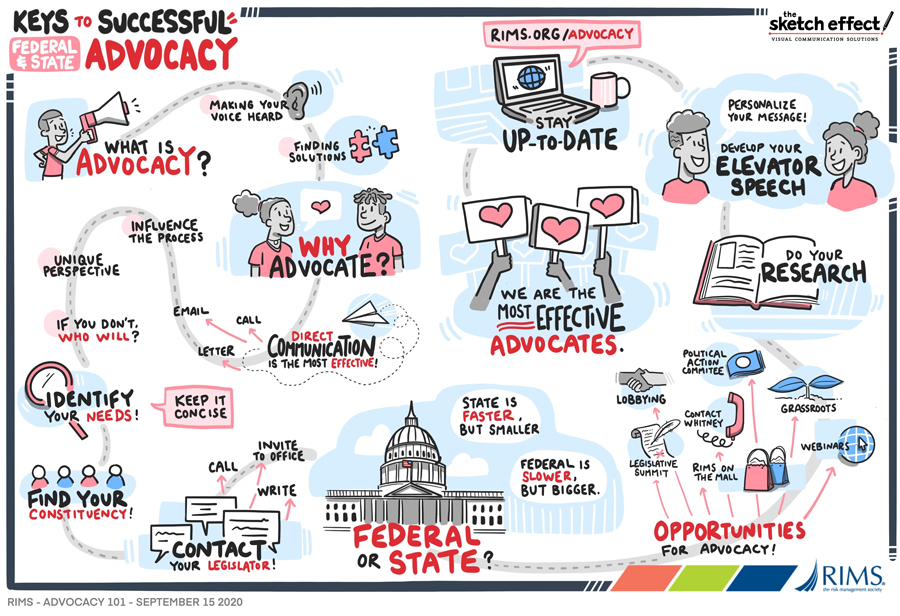 Source: The Risk Management Society (RIMS). https://www.rims.org/advocacy
Even though relying on digital tools and social media can help you mobilise more people and amplify the voices of marginalized communities, advocacy campaigns are more than just choosing the right hashtag and having a share of voice online. In this chapter we will look into key elements of advocacy campaigns, and what are the factors that make some of them successful in reaching their goals, while many miss that opportunity.
References
[1] Save the children. Advocacy and Campaigning.
Last modified: Wednesday, 15 June 2022, 11:08 AM